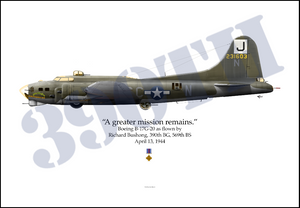 "A Greater Mission Remains" print by John Mollison
This 9" by 13" specially commissioned print by artist John Mollison, "The Last Combat Mission," depicts the plane Belle O' the Brawl as she was when the 390th's Col. Richard Bushong piloted her on April 13, 1943. His final combat mission was especially harrowing because his B-17 Flying Fortress was damaged by flak, causing it to lose power to two engines as well as experience significant systems loss. In those moments of danger, Col. Bushong called on all his training and courage, ultimately safely landing his plane at the 390th Bomb Group's base in Framlingham, England. While the experience was terrifying at points, all ten crewmembers walked away from the mission unharmed.
Each print is numbered and has been signed by both the artist and the colonel. Only 30 were made so don't miss this chance to purchase a piece of history!